Like everybody else across the world, I always find myself becoming engrossed in the Olympic Games every four years. From swimming to athletics and everything in between, I'm always in awe of the athletes who put their blood, sweat and tears into training and make the necessary sacrifices needed for a shot at glory and bringing home a medal.
Speaking from an Irish perspective, it's been a games filled with highs and lows. The O'Donovan Brothers and Annalise Murphy filled the country with immense pride when they took home silver medals in their events, rowing and sailing respectively. While our hopes of securing medals in boxing came crashing down somewhat controversially, excitement is building for Thomas Barr, who became the first Irish man to earn a place in the 400m hurdles final in over 80 years, after a fantastic run that saw him win his semi-final race. While we may not be reaching the heights of the USA on the medals table, we in Ireland certainly have a lot to be proud of. It's also always a joy to witness the endeavours of some of sports most famous names, such a Usain Bolt, Michael Phelps, Mo Farah and Jessica Ennis-Hill, putting on stellar performances and smashing records. But I think what has really struck me about these games is the display of Olympic spirit, and indeed the complete lack of it other areas.
On Tuesday, the world was treated to a true display of sportsmanship during one of the heats in the women's 5,000m race. During the race, New Zealander Nikki Hamblin and American Abbey D'Agostino collided and fell to the ground. After putting in so much effort to be there, and in D'Agostino's case picking up an injury in the fall, both women would have been understandably devastated. But what happened next was truly heartwarming to witness, as Hamblin helped her competitor to her feet and helped her to cross the finish line. For me, and many others, it's exactly what the Olympic spirit is all about, showing respect to your fellow man. Both ladies deserve to be commended for their actions, and it's great to hear that after initially not qualifying, both of these inspiring women will be allowed to compete in Friday's final if they are fit enough to.

Another example of true grit and determination that should be admired is that of Haitian 110m Hurdler Jeffrey Julmis. Julmis had a horror start to his semi final, when he mistimed a jump on the first hurdle and instead crashed into it. My heart sank for him watching it, knowing he must have been devastated. But despite that, Julmis picked himself up, dusted himself off and proceeded to clear the remaining hurdles, simultaneously finishing the race and winning the respect of millions around the world. The actions of Julmis show us that though life may knock you down, it's how you get back up that counts. Here's hoping Julmis will get his shot again at the next games in 2020.
But while the examples above show us the true meaning of Olympic spirit, other instances have shown a distinct lack of it, and a shocking lack of respect for the athletes competing. The first instance of this came, earlier in the week when sprinter Justin Gatlin was mercilessly booed during his races in the 100m event. As many will know, Gatlin has previously been banned for doping offences. In my view, I hate cheats. I believe that if you can't win on your own merit, why bother competing at all? So while I think that I'll always be suspicious of the likes of Gatlin, I think it is wrong for him to be booed. He has been cleared to compete, and we must accept the decision. Whatever your opinion may be, booing achieves nothing more than making the person doing it look bad. I think former Olympic champion and BBC pundit Denise Lewis said it perfectly: "Don't clap, but don't boo either".
Of course Gatlin isn't the only athlete that has been booed. I was shocked during the Men's pole vault competition to witness the reigning Olympic champion, Frenchman Renaud Lavillenie, be booed by the crowd during an intense battle for the gold medal between him and Brazilian Thiago Braz da Silva . While I don't agree with booing Gatlin, you could at least argue that his prior doping offences will always leave him open to some form of criticism. But what shocked me about the booing of Lavillenie was that he was being booed for no other reason than what he went to Rio to do: to compete. It undoubtedly shook him, and not to take anything away from the eventual winner, I think it will always be up for debate whether he could have retained his title had the crowd treated him fairly. After the competition had ended, Lavillenie said in an interview that he felt the crowd treated him the same way Jesse Owens was treated in the 1936 Olympics, which he later apologised for. But who could blame him for having a knee-jerk reaction after failing to retain his title in such an ugly fashion?
But worse was yet to come. During the medals presentation, the Brazilian crowd once again booed Lavillenie in a shocking display of contempt for a great champion. Even da Silva was amazed at the reaction by his countrymen. The whole affair left a bad taste in the mouth for me and I'm sure many others, and was made all the more uncomfortable viewing when Lavillenie was seen to be visibly distraught during the playing of the Brazilian national anthem.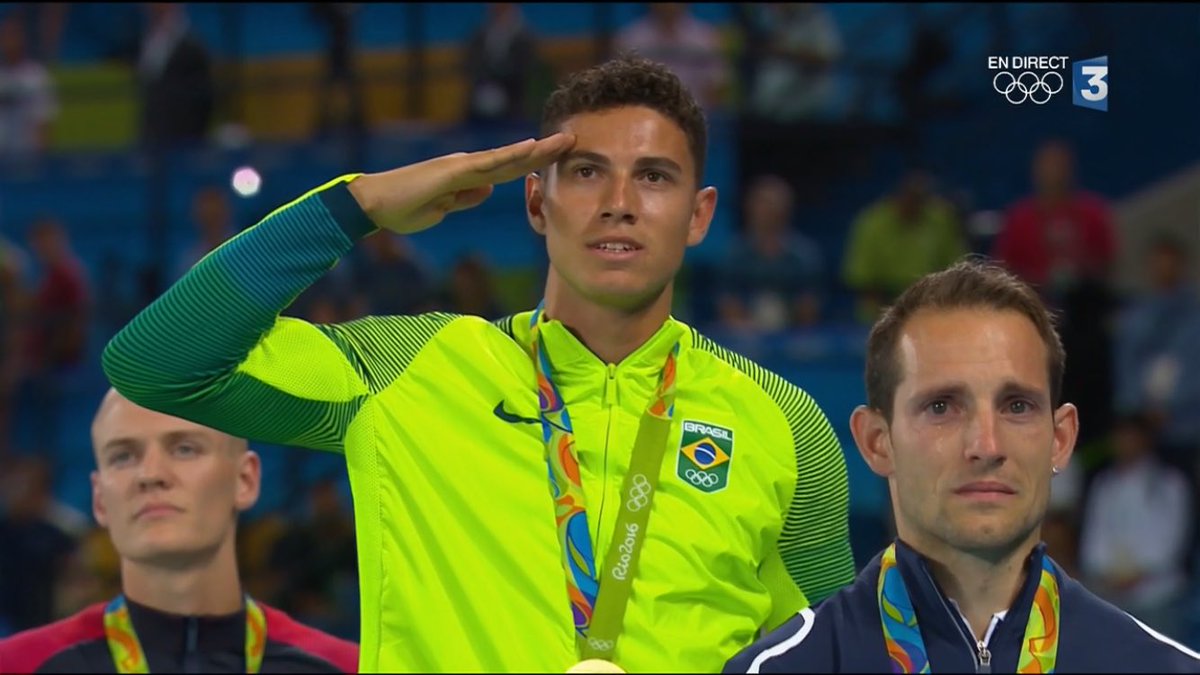 This was not a man crying over losing a gold medal and failing to retain his Olympic title. I'm sure after the initial disappointment that always comes with not winning wore off, that Lavillenie would have been quite happy with his achievement. This was a man upset by a crowd that booed him purely for competing in a sport that he loves. For me, four time Olympic champion Michael Johnson said it best: "This crowd should be ashamed, this is not what competition is about". I couldn't agree more, and I think that every person that booed should be absolutely ashamed of themselves. Not only have they embarrassed their country, but they have also tarnished the victory of their champion. Maybe they should all take a long, hard look in the mirror and then look towards the likes of Nikki Hamblin for lessons on how to show human decency and respect. I really hope Lavillenie uses this to motivate himself to come back even stronger in Tokyo in 2020 and win the gold once again. I can't think of a better slap in the face to each and every person who booed him.
As always, I'd love to hear your thoughts on this, so feel free to leave a comment. 🙂