Howdy all
As we all know, it's Halloween in a few days time. And that means tricks, treats, costumes and parties. And of course an alcoholic beverage or two 😉
But Halloween is also a great time to indulge in some movies and TV guaranteed to send a shiver or twelve down your spine. There are the classics of course, like The Exorcist, The Shining and A Nightmare on Elm Street. But I thought it would be fun to list some others you should consider for your fright night viewing.
So here is a spooky selection that you should check out for your viewing pleasure (or horror). Have a Happy Halloween 💀
It Follows (2015)
This supernatural scarefest received huge critical acclaim for its fresh take on the horror genre. The plot follows Jay played by Maika Monroe, who after having sex with her boyfriend, inherits a dark supernatural entity that will now follow her until it either kills her or she has sex with someone else to pass it on. So Jay is faced with the terrible decision to either take her chances with the evil spirit or try to sleep with someone to pass it on. This movie is so unsettling, from its STD metaphor to the way it's shot. When Jay is talking, you'll find yourself scanning the background for anyone approaching her. And to make it even creepier, they don't come running. They just walk casually towards their victim. The movie also has a spine tingling score, inspired by classic horror movies from the 70s and 80s. A sequel is also in the works, so now is as good a time as any to see the first one to set yourself up for that.
The Strangers (2008)
This home invasion horror, starring Liv Tyler and Scott Speedman as a couple who are terrorised in their home by three masked assailants, is sure to make your skin crawl. It comes with the obligatory "what you are about to see is based on true events" tagline, but it's best to take that with a pinch of salt as usual. Instead The Strangers is said to be based on a frankly terrifying experience from director Bryan Bertino's childhood.
As a kid, I lived in a house on a street in the middle of nowhere. One night, while our parents were out, somebody knocked on the front door and my little sister answered it. At the door were some people asking for somebody that didn't live there. We later found out that these people were knocking on doors in the area and, if no one was home, breaking into the houses. In 'The Strangers', the fact that someone is at home does not deter the people who've knocked on the front door; it's the reverse.
So ya, creepy as hell. What makes The Strangers so frightening is that unlike ghost stories, it is something that could legitimately happen. And it sets up its scares so effectively. Often we see the protagonists walking silently around their house, and suddenly see a masked figure appear in the background, just watching them. Definitely one to watch if you love a scare – just maybe don't watch it if you're home alone!
The Smiling Man (2015)
The above short film starring Abigail Chally, Strange Dave and Melissa Chally has won numerous awards at various film festivals. And just because it's short doesn't mean it won't freak the s**t out of you any less than a feature-length film. It centres on a little girl, who is seemingly home alone watching TV. Suddenly, balloons start appearing that lead her downstairs to the kitchen, where she comes face to face with an abomination known as The Smiling Man. What ensues after makes The Smiling Man one of those films that you feel like taking a shower after, to wash the creepy off.
Dead Set (2008)
This TV Miniseries first aired on E4 in the UK in 2008. Imagine The Walking Dead meets Big Brother and you've got it. On an eviction night of the reality show Big Brother, a zombie outbreak strikes Britain and mass panic ensues. The Big Brother house soon becomes a shelter for the remaining housemates, who know nothing of the chaos in the outside world until the last surviving member of production staff makes her way into the house. The show is littered with cameos from past Big Brother UK housemates, as well as the presenter at the time Davina McCall. And if you like your horror with a side order of gore then this one will be right up your street. You'd never think it, but the Big Brother house is actually a perfect setting for a horror movie. Being closed off from the outside world is bad enough, but throw in hordes of zombies that surround said house and you've got a nightmare situation on your hands.
Sinister (2012)
Sinister starring Ethan Hawke is one of the best horror films released in recent years, and is responsible for one of the most terrifying antagonists to appear in a horror movie. It follows the story of true crime writer Ellison Oswalt, played by Hawke, who moves into a new home with his wife Tracy and two children; 7-year-old Ashley and 12-year-old Trevor. The house was the scene of a horrific crime only months earlier when the family who live their were brutally murder by being hung from a tree in the back garden (chillingly shown in the film's opening scene in the form of a Super8 mm snuff film to really unsettle you from the start). Ellison intends to use the families murder as the basis for a new book, but then he finds more snuff films in the attic, and becomes aware of the presence of the demonic figure know as Bughuul (whose design is frankly the stuff of nightmares). Let's just say, you will be afraid to open your curtains and look out into your garden at night after this one. A real spine tingler of a film, perfect for Halloween viewing.
The Woman in Black (2012)
The Woman in Black marked Daniel Radcliffe's first departure from the role of Harry Potter which made him a household name. In it he plays Arthur Kipps, a young lawyer and recent widower, who is sent to visit the strange village of Crythin Gifford in England, in order to oversee the sale of Eel Marsh House and collect documents left over by its now deceased owner. But Eel Marsh House has a terrible history and Arthur soon learns the legend of The Woman in Black, who 'never forgives, never forgets' the wrongs done to, and who is a source of terror for the local villagers. Adapted from the novel of the same name by acclaimed horror writer Susan Hill (which by the way is also excellent, if you fancy something scary to read this Halloween, and it's not too long either), The Woman in Black is an old school ghost horror, with genuine scares and a harrowing back story that is sure to have leaving every light in the house on this Halloween. And Radcliffe gives a capable performance, helping to shake off the Potter persona.
Night Night Nancy (2015)
The second short film I've included in this post, perfect for those of you looking for a bitesize scare. Night Night Nancy finds main character Nancy waking up to find her a terrifying intruder in her house. The acting in the beginning doesn't have the desired impact as it comes across a little forced. And the fact that Nancy chooses to message a friend on social media rather than call the cops is a little jarring. But the masked intruder is terrifying enough that you'll be able to forgive all that. Like The Smiling Man, this short film has also done well on the festival circuit, so it's worth a look in.
I Heard It Too (2014)
From one short film to another, I Heard I Too was created from a two sentence horror story. In it, a mother puts her young daughter to bed and kisses her goodnight. Later that night, the child wakes to the sound of her mother calling her from downstairs in the kitchen. The little girl creeps from her bed and moves to the landing. Just as she is about to go down the stairs, her mother grabs her from her own bedroom and pulls her to safety saying: "I heard it too". I won't ruin what happens next, but it's such a great idea and it's very well done, with the performance of the little girl playing the daughter being a highlight. Why not combine this one with Night Night Nancy and The Smiling Man to really freak you out on the 31st.
Devil (2010)
This claustrophobic thriller is sure to give you a fright. Starring Logan Marshall Green and Bojana Novokovic, it follows the story of five strangers who end up trapped together in a lift. Things take a turn for the worst when it emerges that the devil himself is among them and has gathered them together as each of them has committed a sin in their time on Earth. The group begin to turn on one another when the lights start to go out at random intervals and each time they come back on, something evil has occurred, or someone has been killed. It's a race against time for security men of the building that the elevator is in to try to find a way in to rescue the group inside. The movie is from the crazy mind of Director M. Night Shyamalan. He has directed a lot of strange and kooky projects over the years which were often not well received. This one did relatively well critically in comparison, and I can see why. The acting is strong, and trying to figure out who is telling the truth and who will be next to die is suspenseful and fun for the viewer.
The Children (2008)
In the world of horror, there is perhaps nothing more frightening than creepy kids. That is definitely true in The Children, a British horror directed by Tom Shankland and starring Eva Birthistle and Hannah Tointon. It has the chilling tagline: "You brought them into the world…they will take you out of it".  The story centres on Casey (played by Tointon), who is travelling with her mother Elaine, stepfather Jonah and younger siblings Miranda and Paulie, to the secluded house of Elaine's sister Chloe and her family, to celebrate New Years. Upon arrival, Paulie begins to vomit and the adults put it down to travel sickness. But by the end of the day, Miranda is also infected. As are Chloe's children Nicky and Leah.  Then a murderous rage appears to overtake the children, who proceed to attack their family in numerous ways, forcing the adults to make a terrible decision on whether to fight back. This one is unsettling, from the picturesque surroundings that ultimately play host to a bloodbath, to the superb acting from the young cast, that really gets under your skin. The film surprisingly wasn't well received amongst audiences upon its release, achieving only paltry returns at the box office, but it's a great watch if you're a horror fan. It will leave you very suspicious of your younger siblings however.
Orphan (2009)
Staying with the creepy child theme for the next movie. Orphan, released in 2009, boasts one of the most outstanding performances of a child actress I've ever seen. The film tells the story of John and Kate Coleman (played by Peter Sarsgaard and Vera Farming, who is making quite the name for herself on the horror movie scene). After a miscarriage, they decide to adopt a mysterious 9-year-old girl Russian girl named Esther. Everything seems wonderful at first, with Esther settling into the family seemingly effortlessly. But it's not long before strange things start happening and we learn that Esther is hiding a shockingly dark secret. And it's one you won't see coming. As I mentioned, this film boasts an exceptional performance from Isabelle Fuhrman, who was only 9-years-old when she took on the extraordinarily complex role of Esther, all the while adopting a strong Russian accent. The rest of the cast is strong, and the plot has the ability to really get under your skin at points, but it is Fuhrman's performance that really steals the show.
You're Next (2011)
Fans of Aussie soap Home & Away will recognise the star of this next film. Sharni Vinson played Cassie Turner for four years before heading for heading to Hollywood. You're Next sees her take on the role of Erin, who is meeting her boyfriend Crispian's family for the first time at a family reunion. This family is not your typical, loving brood. Tension and resentment built up over the years threatens to wreck a peaceful reunion, and leaves Erin wondering what she has walked into. Then all hell breaks loose, when a group of assailants dressed in a variety of animal masks begins to terrorise the group. The one thing they weren't banking on however is Erin, who is far from the shy, retiring girl she seems to be. You're Next isn't necessarily the scariest of horrors, but it does have a few great shock scares mixed in with a gory set of deaths. What makes it different from other films similar to it is a committed cast and a variety of interesting ways in which the cast are killed off. The twist is a little predictable, but still worth a watch. Once again though, you may want to give this a miss if you tend to be home alone at any tome during Halloween.
And Then There Were None (2015)
There have been many adaptations of Agatha Christie's famous novel of the same name over the years, but this three episode miniseries from the BBC is one of the best. It boasts an incredible lineup of talented actors including Charles Dance, Aidan Turner and Miranda Richardson. The story involves eight strangers being invited to a dinner party on a remote island off the coast of Devon, in England. They are received at the mansion of their host, a mysterious figure, by two servants who have been instructed to wait on the guests. After dinner on the first night, a record is played to the guests, in which each accused of heinous crime they were never brought to justice for. The group then make plans to leave the island, but a massive storm means they are trapped until it passes. It is then that an unseen killer begins to strike, picking them off one by one in accordance with a sinister nursery rhyme. Great performances from all, a creepy setting, and one of the greatest mysteries ever written. You can't go wrong.
The Walking Dead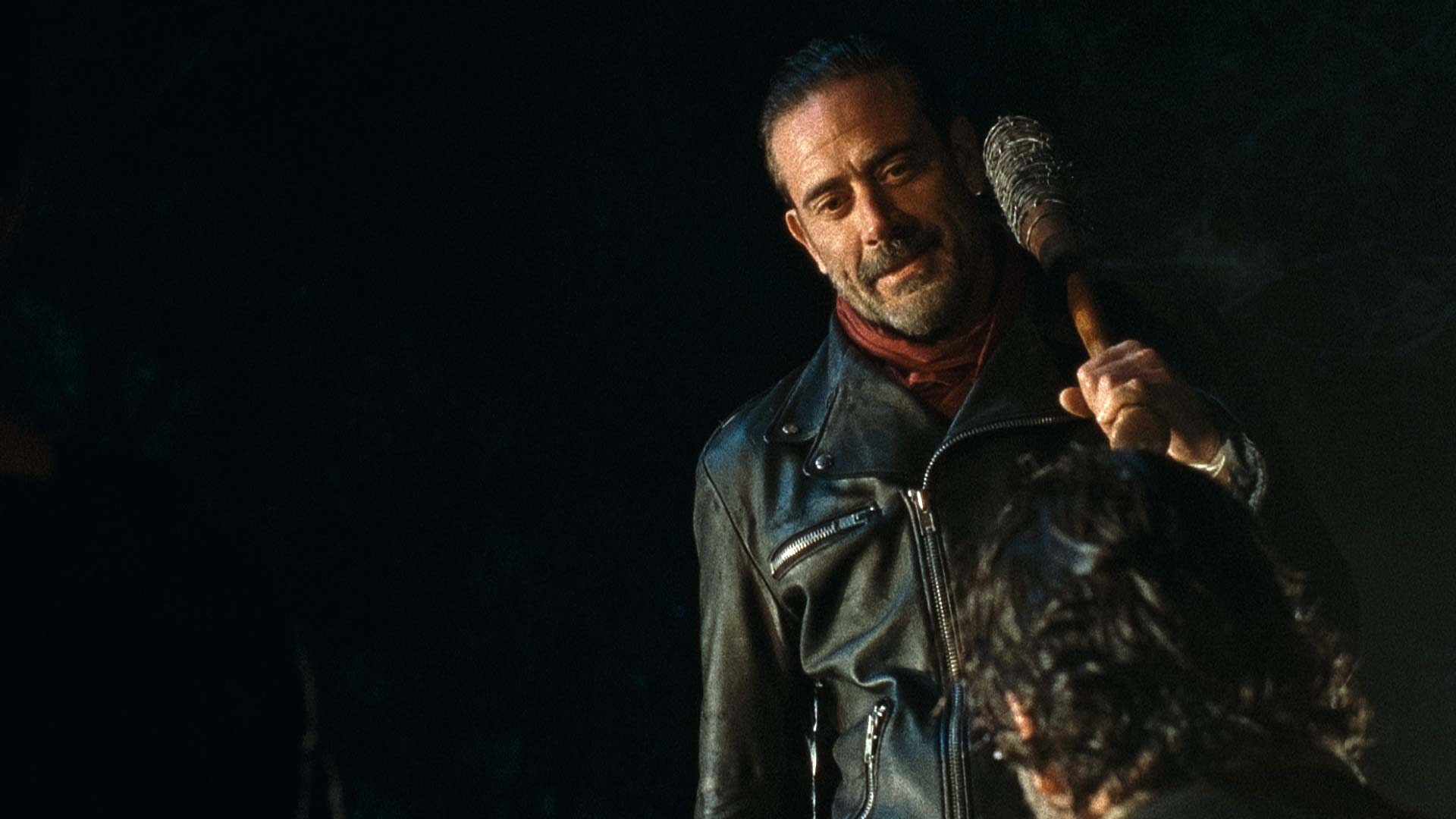 If by some miracle you've recovered after the harrowing first episode, the second episode of The Walking Dead season 7 airs on Halloween night in my side of the world (Sunday in America, as usual). After the emotional deaths of two favourites at the hands of new big bad, Negan, it will be exciting and terrifying to see where things go from here. The zombies are no longer the biggest thing to fear.
So that's just a few suggestions from me to you this Halloween. Got any of your own?? I'd love to hear them, so leave me a comment!